Category:
News
Date:

February 1, 2023
The Farmhouse look has become a major home style trend over the years. It's said to be inspired from a farmhouse building, including its interior and exterior decoration. Farmhouse style introduces rustic, warmth, traditional and chic. To indulge in this frenzy, here are some DIY-friendly ideas to give your home the ultimate farmhouse renovation with Zenith tools! 
Board and Batten Walls 
Board and batten walls are a farmhouse design staple, and are an easy and affordable project you can DIY! Board and batten create texture and dimension in any room in the home. Plus, this project only involves a few pieces of molding, wood boards, optional paint, and minimal home remodeling tools.
Old trim and baseboards must be removed before beginning wall renovations. The Trim Puller is the perfect tool for this step. Unlike an ordinary pry-bar, the Trim Puller is a multi-versatile hand tool designed to remove wall trim from baseboards, crown and shoe molding, door casings, and decorative panels. The Zenith Trim Puller has an integrative center wedge made of a durable stainless steel to withstand even the toughest of materials.
To remove the baseboard, score the top and corner caulk lines with a utility knife. Then, use the Trim Puller to wedge between the baseboard or trim and wall to carefully break the seal. Once separated, use the EDPM shock-absorbing handle to leverage the tool, moving side-to-side the length of the board until the baseboard is completely removed. A hammer can be used with the Trim Puller to assist in the removal process. You're now ready to install the board and batten wall! Helpful tip: repurpose the old baseboard or molding materials as board and batten pieces! 
The Trim Puller is available on Amazon, Menards, and the Home Depot.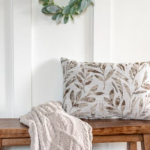 Subway Tile in Kitchen and Bathroom
Get creative with the tile in the kitchen or bathroom. Subway tiles suit many different styles, but provide a modern look when used as kitchen backsplash or as tile in your bathroom! Replacing old tile is quick and easy with Zenith tools. 
Backsplash is often used in smaller areas that may be hard to reach. Our Mini Trim Puller tool is compact in size and will easily remove backsplash without damaging the wall. To remove backsplash, place the Mini Trim Puller between the tile and wall and carefully wedge the tool slowly until fully separated. Repeat steps until fully removed.
The Mini Trim Puller is available at Lowe's. 
If you're looking to incorporate subway tile as bathroom tile flooring, you'll need a larger tool such as the Floor Lifter to rip out old tile. Designed to safely remove flooring like ceramic tile, this floor lifter hand tool is the ultimate demolition and remodeling multi-tool. The Floor Lifter's steel wedge face is larger, providing premium removal efficiency through aggressive extractions on bigger jobs. 
The Floor Lifter can be purchased on Amazon or the Home Depot.
Once the old tile is removed you're now ready to install subway tile!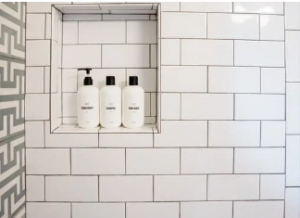 Farmhouse Kitchen & Bathroom Fixtures 
Remodel your kitchen and bathroom to include farmhouse style fixtures. The farmhouse aesthetic includes a color palette full of neutrals, creamy off-white, crisp clean white, and sleek matte black. Work in some of those darker details by incorporating matte black fixtures into your home's design. Check out Danco's collection of Matte Black Accessories for kitchen and bathroom. A bathroom bathtub and shower trim kit or kitchen sink hole cover in Matte Black will complement the farmhouse style in your home.